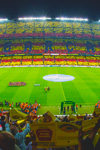 FCバルセロナ FC Barcelona vs Real Madrid C F
Camp Nou
Here You can buy tickets for the match between FCバルセロナ FC Barcelona and Real Madrid C F. You can see when FCバルセロナ FC Barcelona has it's next home game on Camp Nou against Real Madrid C F on the list below.
Read more about the match FCバルセロナ FC Barcelona vs Real Madrid C F here.
Welcome to one of the most polarizing football matches ever, and arguably the best football experience you could live. El Clásico (The Classic) is just like an All Stars match, and features the best two players out there against each other: Messi and Ronaldo.
Real Madrid and FC Barcelona have got it all: wealth, a winning history, incredible stadiums, amazing supporters. Moreover, every year they compete for everything, from Copa del Rey to Champions League.
Rumor has it that Italian supporters were the first ones to bring flags, banners and chants to football. We can't be sure that is true, but we are sure Barcelona supporters brought that to the next level, and are able to create one of the best atmospheres for a football match ever. Almost 100'000 supporters will sing and cheer non-stop for way more than 90 minutes when El Clásico comes to Camp Nou. It's an amazing experience within the experience, and it offers an insight into the famous Catalonian pride.

シーズンのマッチリスト 2018-19
FC Barcelona vs Real Madrid C F
土, 26 日10月 2019

Past matches
FC Barcelona vs Real Madrid C F, 日, 06 日5月 2018

FC Barcelona vs Real Madrid C F, 土, 03 日12月 2016

FC Barcelona vs Real Madrid C F, 土, 02 日4 月 2016

FC Barcelona vs Real Madrid C F, 日, 22 日3月 2015

FC Barcelona vs Real Madrid C F, 土, 26 日10月 2013

FC Barcelona vs Real Madrid C F, 日, 07 日10月 2012

FC Barcelona vs Real Madrid C F, 土, 21 日4 月 2012

FC Barcelona vs Real Madrid C F, 月, 29 日11 月 2010

FC Barcelona vs Real Madrid C F, 土, 28 日11 月 2009