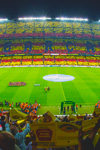 FCバルセロナ FC Barcelona vs Espanyol
Camp Nou
Here You can buy tickets for the match between FCバルセロナ FC Barcelona and Espanyol. You can see when FCバルセロナ FC Barcelona has it's next home game on Camp Nou against Espanyol on the list below.
Read more about the match FCバルセロナ FC Barcelona vs Espanyol here.
FC Barcelona - RCD Espanyol, the Catalan derby.

FC Barcelona is undoubtedly Barcelona's pride. The entire Catalan city is painted blaugrana, red and blue. Walking down the streets, you will find Barça's logo add flags everywhere: on beach towels on the Barceloneta, in the stands of Las Ramblas, hanging down from balconies and on the children's school bags. If you did not know there was a football team in town, it would be hard not to find out in the first 2 minutes of strolling.
It is on the outskirts of the city, south along the coast in the Cornellà de Llobregat area that the colors will start to change, and balconies will proudly display blue and white Espanyol flags. Being an Espanyol supporter means living in the shadow of mighty Barcelona. For an Espanyol supporter only one thing matters, and it's winning against Barça. Something that happens extremely rarely, but all the more exciting just because of that.
Being the better team by far, it is a rather uncomfortable match for FC Barcelona and its supporters. No matter if the derby is played at Camp Nou or Cornellà- El Prat, no one expects Espanyol to win. Therefore, expect no parades should FC Barcelona win, and a week of catastrophism should they lose. That's what fires the Blanquiazules every year: the knowledge that they've got nothing to lose.


シーズンのマッチリスト 2018-19
FC Barcelona vs Espanyol
土, 30 日3月 2019 または 日, 31 日3月 2019

Past matches
FC Barcelona vs Espanyol, 土, 09 日9月 2017

FC Barcelona vs Espanyol, 日, 18 日12月 2016

FC Barcelona vs Espanyol, 日, 08 日5月 2016

FC Barcelona vs Espanyol, 日, 07 日12月 2014

FC Barcelona vs Espanyol, 金, 01 日11 月 2013

FC Barcelona vs Espanyol, 日, 06 日1月 2013

FC Barcelona vs Espanyol, 土, 05 日5月 2012

FC Barcelona vs Espanyol, 日, 08 日5月 2011

FC Barcelona vs Espanyol, 土, 12 日12月 2009